Banana Walnut Chocolate Chip Bread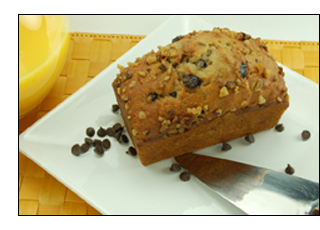 I own a nightclub called TOP BANANA, and tonight the Jazz band, The Chocolate Chips, are going to bring down the house. I've fallen madly in love with one of the chips. We dance the Tango and she wears a big pink boa and high heels. "You the man," she whispers and pokes me under my peel. The cranberry prince and princess are sitting in the audience sipping Martinis. They invite us to a party and tell us how happy they are living in a scone. HomeBonny's creates recipes for all of her favorite ingredients, they promise. We leave the party and hide from the paparazzi. We live happily ever after in HomeBonny's delicious Banana Walnut Chocolate Chip Bread.
HomeBonny's Breads are packaged in see-through plastic bags tied with bright yellow ribbons. Each bag comes with it's own creative story from The Secret Lives of Breads. The packages make wonderful gifts.
One loaf of Banana Walnut Chocolate Chip Bread
SM-$4.00 M-$8.00 L-$12.00 plus shipping
($20 minimum)
SM-$4.00
M-$8.00
L-$12.00