Lemon Poppy Seed Bread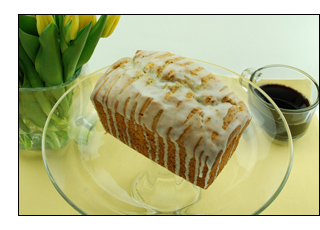 Dotty the poppy seed is reading the HomeBonny's Express. She reads, HomeBonny's Classic Currant Scone wins first prize in national baking contest. More than anything she wants to be a contestant. She's tired of sitting all day smashed inside the canister. Through the glass, she watches HomeBonny baking a lemon bread. With all her might she lifts open the big, silver latch. She drops down, rolls along the counter and lands perfectly in the mixing bowl. And that's how HomeBonny's discovers her Lemon Poppy Seed Bread. Who's to say that dreams can't come true?
HomeBonny's Breads are packaged in see-through plastic bags tied with bright yellow ribbons. Each bag comes with it's own creative story from The Secret Lives of Breads. The packages make wonderful gifts.
One loaf of Lemon Poppy Seed Bread
SM-$4.00 M-$8.00 L-$12.00 plus shipping
($20 minimum)
SM-$4.00
M-$8.00
L-$12.00