My Nana was famous for her baking, but I was too young to know that not everything in life would taste so wonderful. Her house was immaculate, full of fres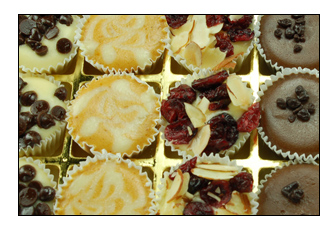 h flowers, classical musical, and the smell of home made cheesecakes. I remember them sitting on the marble counter in her San Francisco kitchen. It was always foggy on those Saturday afternoons, and I would sneak in and stick my fingers right into the middle of the cake. My mouth waters just thinking about it. Eventually, Nana caught on and hid her cakes from me. After Nana passed, nobody could find her recipes. Recently I was in my kitchen baking chocolate chip cookies, my dog Fred under my feet, when the postman rang the doorbell. The package he was holding was marked, "HomeBonny's," and I ripped open the box to find Nana's handwriting. There must have been over two hundred recipes written on her lilac stationery. My Uncle had found them and sent them to me. In honor of my Nana, I can now share these delicious cheesecakes with all of you. Thank you Nana!
HomeBonny's Cheesecake Bites, each one the size of a truffle, arrive in a gold box of twelve with four assorted varieties and are wrapped with an elegant gold ribbon. The Cheesecake Bites Box includes Chocolate Chip, New York, Raspberry, and Cappuccino Bites.
HomeBonny's Cheesecakes can be ordered in any size! To order larger cheesecakes, please contact HomeBonny by e-mail at bonny@homebonnys.com or by phone at (510) 734-7368.
Cheesecake Bites ($24.95 each, net weight 12 ounces) - package of two boxes $49.90 plus $10 specialty shipping = $59.90
Cheesecake Bites can only be purchased two at a time due to shipping constraints.